I was asked to speak again this year at UBTech. It's an interesting educational technology conference with a pretty diverse audience of faculty, instructional staff and senior-level administrators. I always get a lot out of the conference, and this year was no different.
Attached to this post is a PDF version of the slides from my presentation "Unleash Your Inner Spielberg When Flipping the Classroom." It was another good presentation, with great follow-up from a number of attendees.
This was my favorite tweet about the presentation: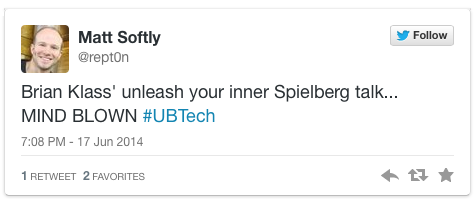 If you're interested in me speaking at your institution about this topic, please get in touch!